The Department of English was constituted at the beginning of the college in 1965. The Department of English offers Common English Course for all U.G. programmes and all students of the I, II, III and IV semester of B.A. Malayalam, History and B.Sc Botany, Zoology and Mathematics and I and II Semester of B.Sc. Applied Physics and Polymer Chemistry are the beneficiaries of this course.
Best practices/teaching learning methods :
The Department has designed many innovations and best practices in the last two academic years. They are the display of Campus Word Bank, Know the Nobel Laureates, Peep into the World of Classics, Commemorating Shakespeare on his 400th Death Anniversary and the formation of a Corner library "Cynosure" in the department. The Department also offers basic English Grammar classes for all from 3.30 p.m. to 4.30 p.m. under the banner "English Made Easy". The English Language lab is also open at this time for students. Drama presentations, Documentary shows, Advertisement demos, manuscript magazines, role plays etc. add spice to the English classes.
Facilities:
• Smart Class room • Language Lab • Department Library • Portrait Gallery
HOD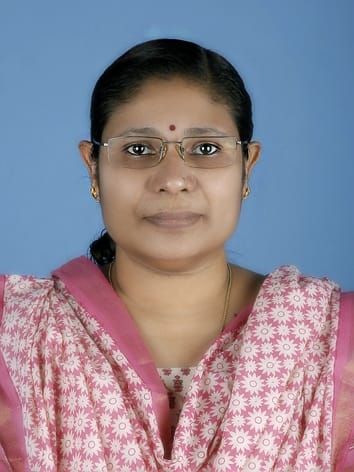 Smt. HONEY SABU
elangavu76@gmail.com
MA in English Language and Literature and NET