Convener :  Smt.Dhanya PD, Asst.Professor of Malayalam
K. K. T. M Government college, Pullut has created a novel platform for the college students mental health and wellbeing center 'JEEVANI' in association with directorate of collegiate education, Govt. of Kerala. This is meant for first year students to share and discuss the various challenges faced by them in their personal as well as academic life. As part of this scheme, the full time counselor is appointed as apprentice trainee in our institution from the date 5-8-2019.
The plat form was officially inaugurated in college by Sri. Ullas . M. A. principal in charge on 18-10-2019.
Activities: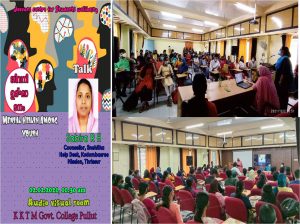 Talk on Mental health among Youth
Jeevani center for student well-being conducted a talk on the topic 'Mental health among youth' on 02-12-2021. The class was conducted at audio visual lab, K.K.T.M. Govt. College, Pullut. The class started with keynote address, the principal Dr. Nessy E.A. Thereafter, Jeevani coordinator Ms.Dhanya P.D. welcomed the participants and session was handled by the resource person Snehitha help desk counselor, Ms. Sabira R.H. The class mainly focuses on importance of mental health among college students. Approximately 60 participants attended the class, including teaching faculties, postgraduate and undergraduate students. The class was interactive and the students clarified their doubts. The informative class culminated with a vote of thanks proposed by Psychology apprentice, Ms. Nadam P.S.
2019
As part of scheme we have conducted a "Aids awareness class'' on 26-82019 and the resource person was Akhila Thomas, Counselor, Taluk Hospital, Kodungallur.
K.K.T.M Govt. College celebrated Mental Health Day on 10th October 2019 as part of this event, we have arranged suicide awareness class on the topic 'Prevention of Suicidal attempts' was organizeded for them on 21st of October, 2019. The objective of the said programme was to make the students capable of managing various stresses they face in their daily life. The resource person for the programme was Dr. Mercy Thomas, Academic Counselor, IGNOU Regional Centre, Kaloor. Nearly 215 first year students from various departments of the college participated in the programme.
JEEVANI Inauguration
Dr. Mercy Thomas leading class on "Mental Health Day"
Pencil Drawing competition for first year students
Yet another programme organized by "jeevani" KKTm college on 24th day of February 2019. The programme was inaugurated by Principal Dr. Anitha I. about 150 students and teachers participated in the programme. In talk about the "mental stress and its effects on day to day life" were addressed by Dr. Mercy Thomas , Academic Counsellor, IGNOU, Kaloor. The speech was so effective and the students interacted very much with the speaker. An room for personal counselling was also setup at "jeevani" counselling center. It was also very much effective for the students. In this event Dr. Mercy Thomas distributed prize for the winner of the pencil drawing competition held om Mental Health Day Celebration". The three prizes were got for the Students of Mathematics Department. First prize goes to Mr. Sreram K.B, second Prize goes to Mr. Ameer Suhail V J. and the third prize goes to Mr. Aromal.
Talk by Dr. Mercy Thomas