The college Union is an elected body of student representatives consisting of 9 executive members, 4 representatives year wise, 7 association secretaries and 2 university union councilors. This union is elected through a transparent electoral process, led by an election committee under the leadership of the Principal and a returning officer who is selected from among the teachers.
The union takes up the responsibilities of organizing and conducting various cultural, sports and extra curricular activities like the college celebration, arts fest, sports meet etc. Two UUCs are elected for representing the institution in the university. The college magazine is published under the initiative of the student editor.
Electoral Literacy Club has been functional at the College for many years. The National Service Scheme of the college is vested with its coordinator ship and all members of the College Council and elected members of the Union are the members of Electoral Literacy Club.
INSTITUTIONAL INITIATIVES FOR ELECTORAL LITERACY kktm
COLLEGE UNION 2021-22
COLLEGE UNION 2020-21
Due to COVID -19  2019-20 college union continued for the academic year 2020-21 also
COLLEGE UNION 2019-20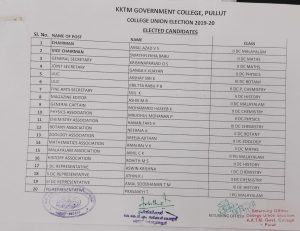 COLLEGE UNION 2018-19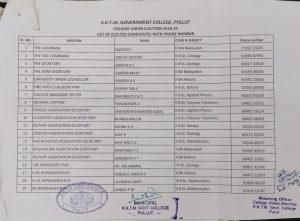 COLLEGE UNION 2017-18